Great Recipes to use up your Late season Peppers!
I don't know about you but we are literally overrun with peppers in September.  I really wish they would ripen in the early part of the summer but they just take so long to ripen to their colors, we wait and eventually we become inundated with them at the end of the season.
Here are a few great recipes that will get you started with using up peppers by the bushel:

Roasted Pepper and Garlic Soup
Ingredients:
3 lbs. Red, Yellow or Orange bell peppers, halved and cleaned
5 cloves garlic, in peel
2 cups chopped onion
2 Tb. olive oil
2 large sprigs fresh thyme
1 bay leaf
4 cups good chicken stock (or vegetable broth)
1 tsp. hot sauce (Sriracha or Tabasco)
½ tsp. salt
½ tsp. ground pepper
Directions:
Half the peppers and remove all seeds and membranes. Press them flat with your hand and lay them on a foil lined, rimmed baking sheet. Place the garlic cloves on the baking sheet.
Set the oven on broil and raise the rack to the upper position. Broil the red peppers and garlic for about 15 minutes watching carefully so they blacken and skins are bubbly.
Once the skin has blackened, remove from the oven and place in a large zip bag to steam so the skins will easily separate from the pepper flesh. (10 minutes)
Preheat a large pot to medium heat. Add the oil, thyme, bay leaf, and onions. Saute for 5-10 minutes, until onions are soft.
Add the broth, hot sauce, salt and pepper. Squeeze the garlic cloves out of the peels into the pot.
Then peel the charred skin off each pepper half and place it in the pot.
Reduce the heat, cover and cook another 20 minutes. Remove the bay leaves and thyme sprigs. Then, using a hand-held immersion blender or standard blender, blend until smooth.
Optional: Add 1 cup of half and half or heavy cream or cream cheese at the end and lightly simmer until blended and hot.
Another one for the grill or oven: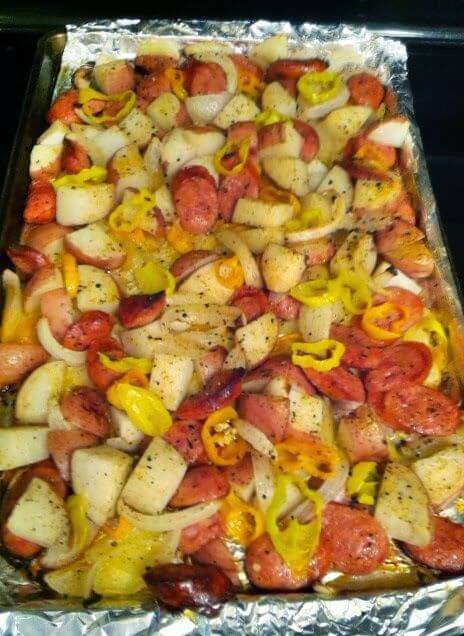 Sausage and Peppers with Potatoes and Herbs
1 package (at least 1 lb) of your favorite Italian sausage links (Pork, hot, or chicken) or smoked sausage cut into bite sized pieces. (You can also use fresh chicken breasts or pork cut into chunks)
4-6 medium red skinned potatoes halved and quartered.
Peppers:
1-2 bell peppers or sweet peppers of any kind. (Lipstick, Jimmy Nardello, Banana Peppers or Bells)
1-2 hot peppers chopped(optional)
1 large sweet onion, chopped into bite sized chunks
2-3 cloves fresh garlic, minced
3 tbsp virgin olive oil
Kosher salt & fresh ground pepper
2-3 tsp fresh chopped Rosemary, Basil, Oregano (or just about any other herb you have handy)
Fresh San Marzano type Tomatoes, halved and quartered (optional)
Cut up all ingredients as specified above. Blend Garlic, olive oil, herbs, salt and pepper. In a large roasting pan lined with foil, toss all the vegetables and meat in the olive oil mixture distributing evenly. Roast for approximately 30-40 minutes mixing once half way through. Let sit for approx. 5 minutes and serve with good crusty bread.
This is also a great recipe for roasting in foil on the grill!